Film Recycled and Granulation Line Machine with Vented Single Screw Extruder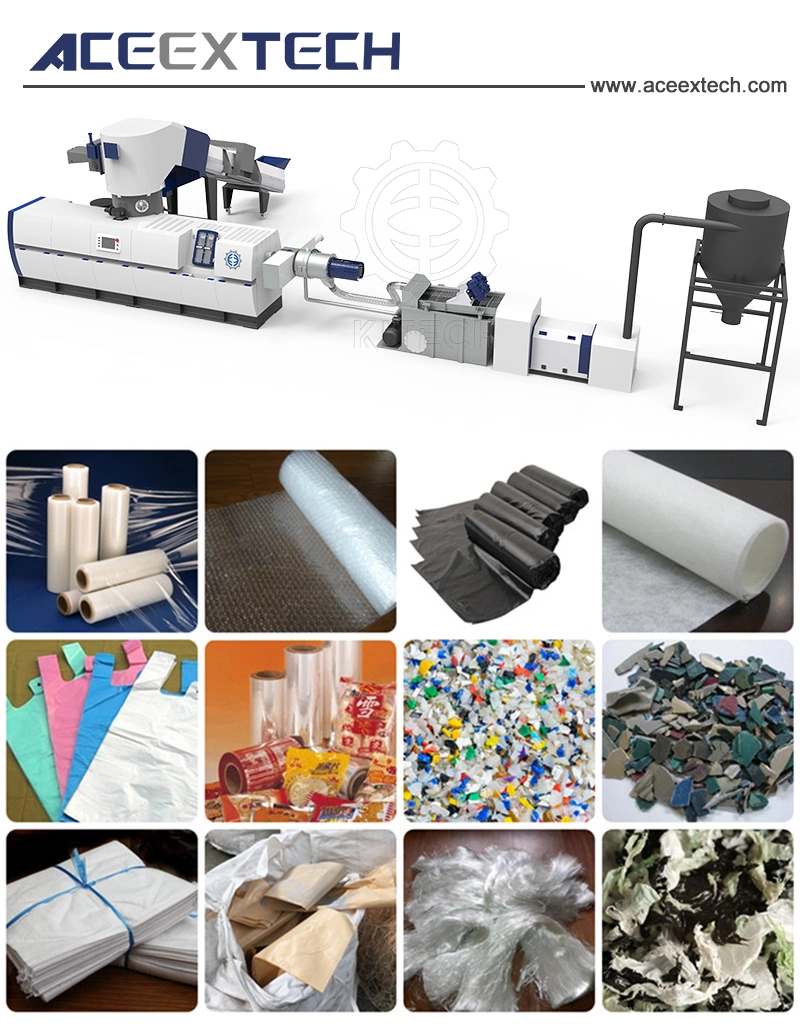 Recycling Material of Plastic Recycling Pelletizing Machine:
| | |
| --- | --- |
| Material | PE, HDPE, LDPE, LLDPE, PP, CPP, BOPP, EPS etc. |
| Shape | Film, Bag, Woven bag, Raffia,Bubble film, Foam, nonwoven fabric, Filament,sheet,chips |
| Type | Loose, Bundle, Roll, Scrap |
| Origin | Off cut, Washed film, In house waste, Regrind |
Basic data of Plastic Recycling Pelletizing Machine:
Machine Size

Date of Compactor

Data of Single Screw Extruder

Throughput Rate

(kg/h)

Efficiency Volume

(Liter)

Motor Power

(KW)

Diameter of screw

(mm)

L/D

Motor Power

(KW)

KCP 80

300

37

80

36

45/55

160-220

KCP 100

500

55

100

36

90/110

300-380

KCP 120

800

90

120

36

132

450-480

KCP 140

1000

110

140

36

160/185

500-650

KCP 160

1200

132

160

34

220/250

800-1000

KCP 180

1400

315

180

34

315

1000-1200
Specifications of ACE pelletizer: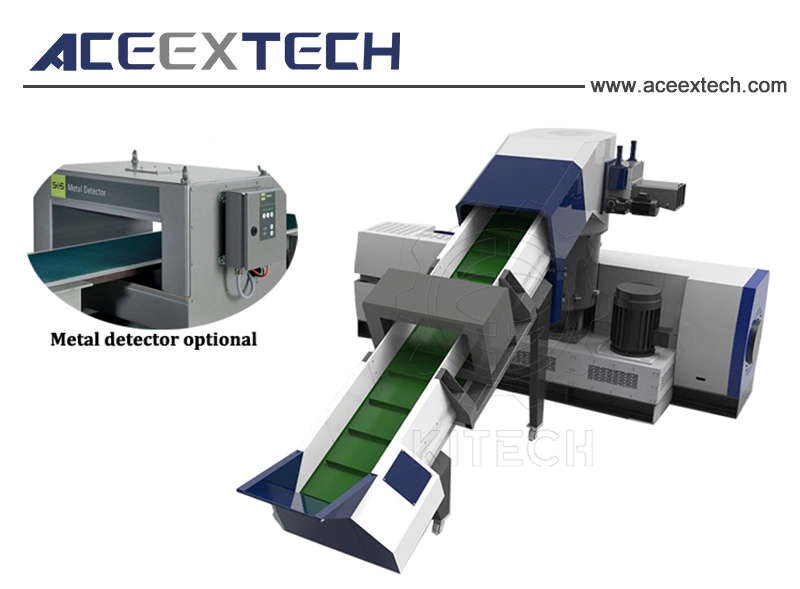 *Feeding materials into compacting room by conveyor automaticlly.

*Speed possible controlled by inverter

*Metal detector optional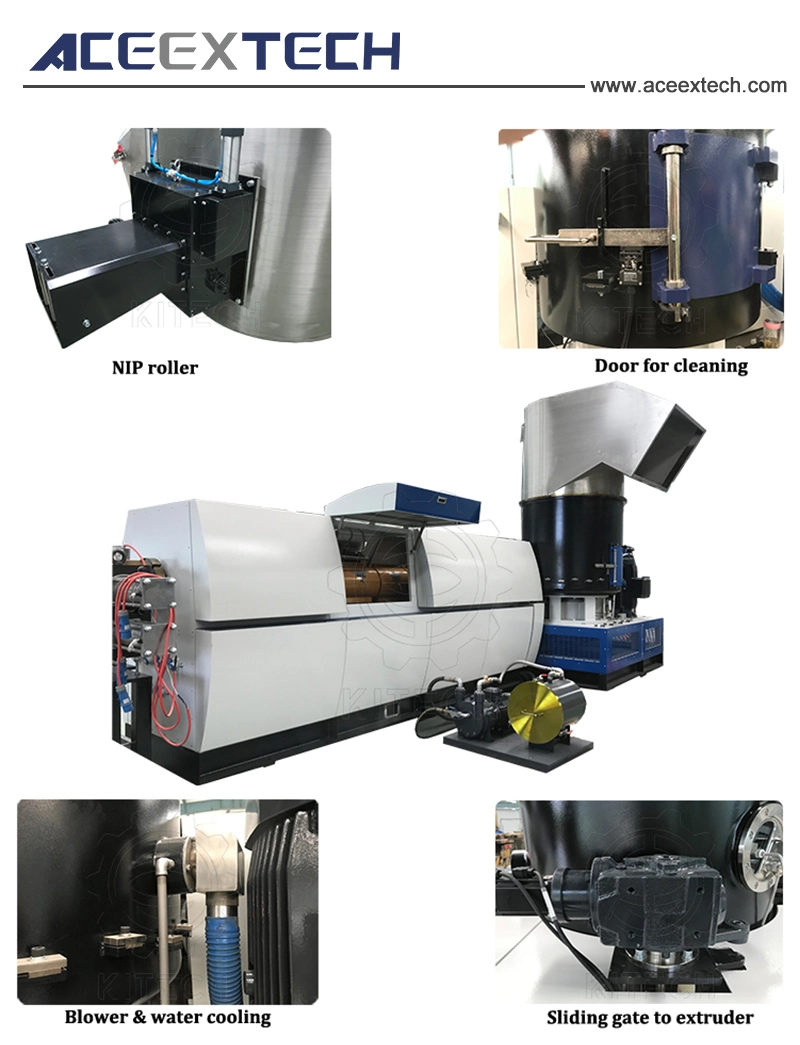 *Rotator and stationary blades are combined to cut up the materials,

*Crushes, dries and compacts the material in one step,

*Guide structure directs the material into extruder screw.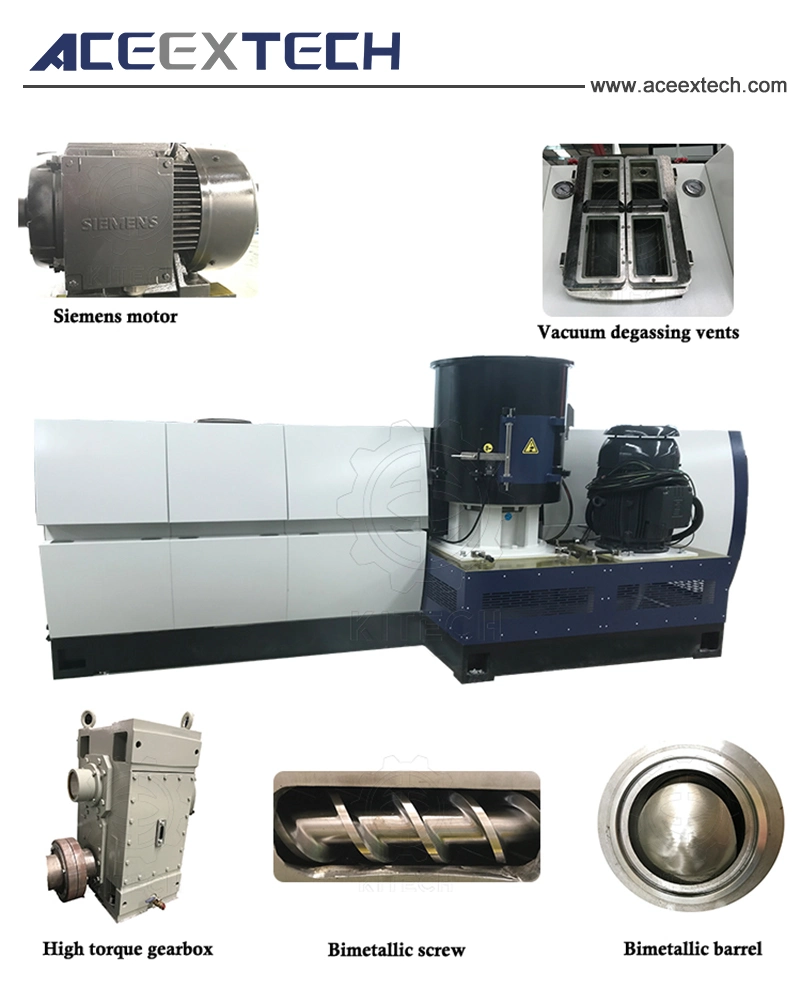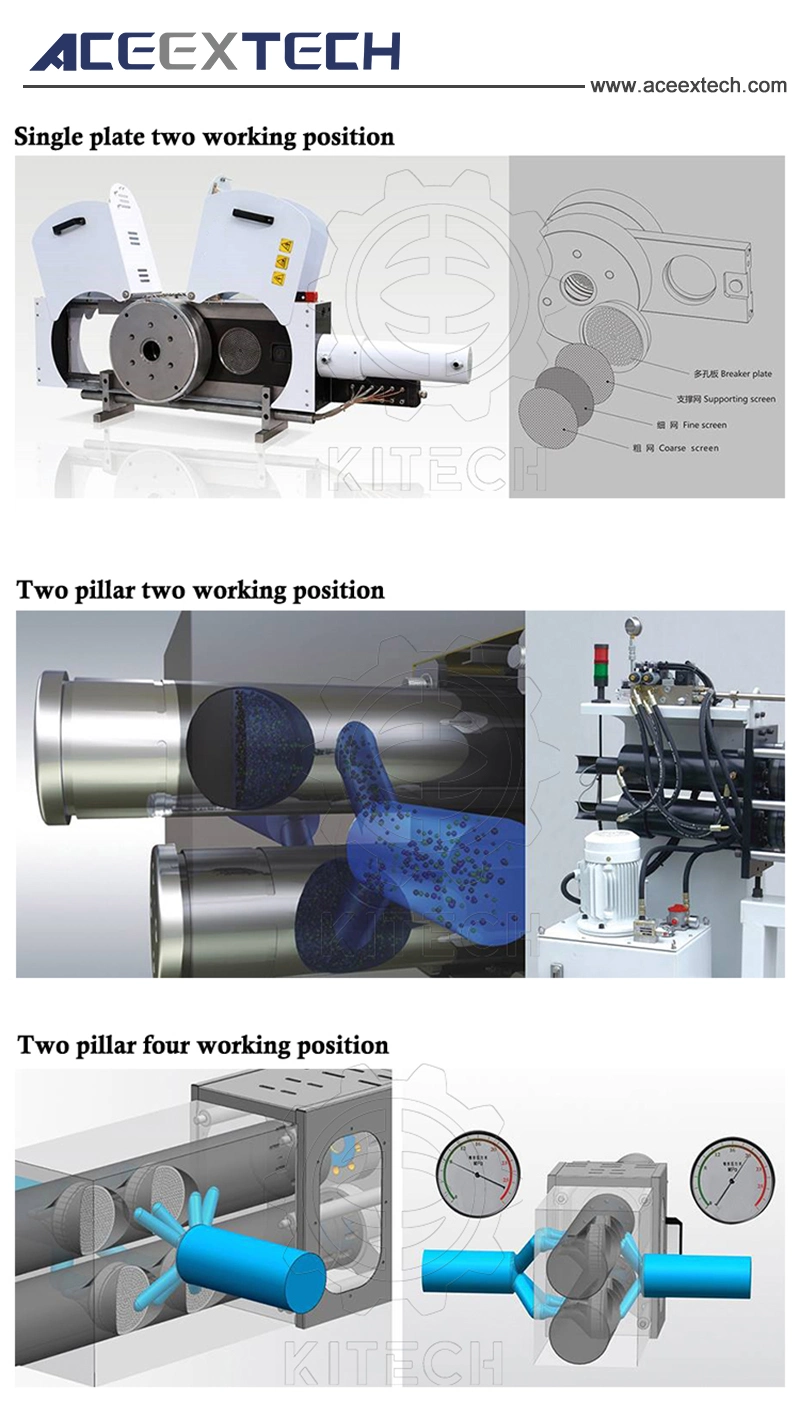 *Single Screw extruder melts the material,

*Double-zone vacuum degassing system,

*Self protective system,

*A single-plate double-station screen changer or double-plate four-station installed on head of extruder filtrates the melt.*Build in hydraulic control.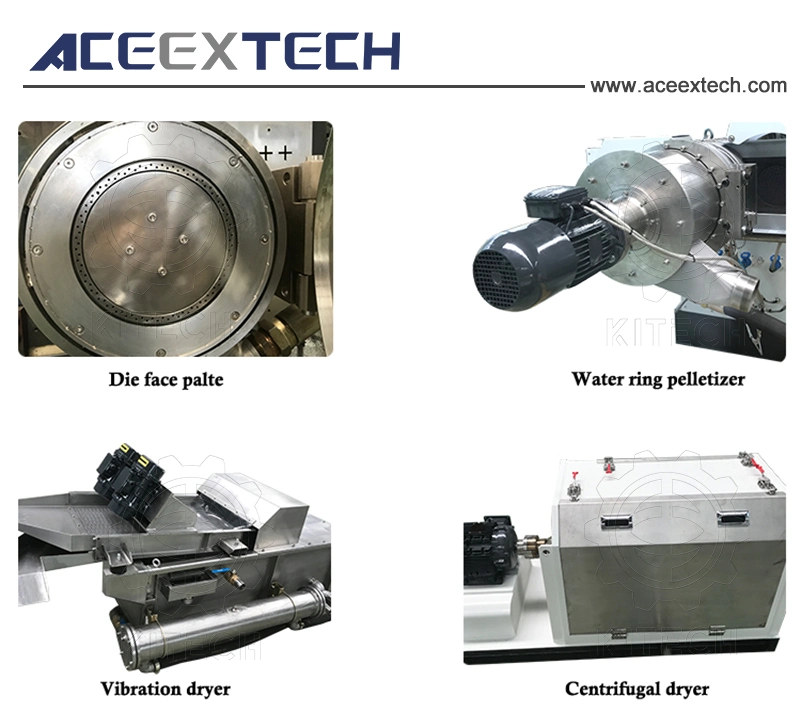 *Die-face water ring pelletizing system is a standard pelletizing method,

*Self-adjusting pelletizing,

*RPM of rotator blades is automatic based on melt extruding pressure,

*Dewatering vibration sieve combining with horizontal-type centrifugal dewatering have a good drying efficiency.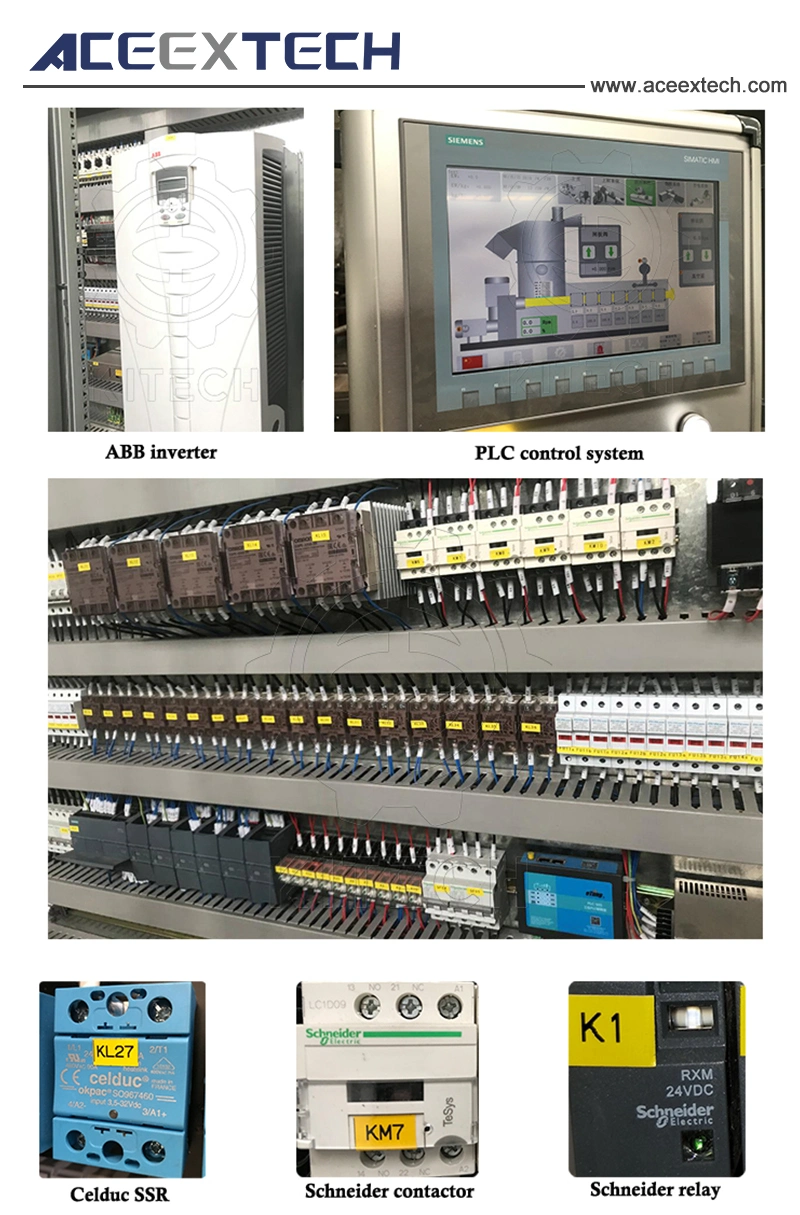 *PLC/HMI Controlling system,

*All electrical units mounted in a steel cabinet,

*All heaters equip with Ammeters,

*Safety interlock principle applied in the system,

*All electrical units: LS, Schneider, Siemens and ABB.
Advantages of Our Plastic Recycling Pelletizing Machine:
*Excellent machenical design
*Automatic intellegent control system
*Top brand components
*High safety protection system
*High efficiency
*High output
*Low energy consumption
*Less-labor cost
Service and support:
*Before-sale:
Introduce products professional
Project engineering


*During manufacturing:
Provide layout and engineering conditions
Inform the schedule of production
Make sure the product designed in accordance with technical document
Test machine before delivery
Provide photos before shipping


*After-sale:
Build customers database. All machines are traceable.
Overseas installation, commissioning and training are available
Speed up service and spare parts supply.
Visit customers and make quality trace periodically

Contact to ACEEXTECH:

ACEEXTECH MACHINERY CO., LTD
Tel:+86-512 58620105
Fax:+86-512 58620107
Mobile : +86-13915722488
Website: www.aceextech.com
Add:No.7, Jiulong Industry Park, JinFeng Town, Zhangjiagang City Jiangsu, China